If you are a Microsoft 365 Business user then you are probably very happy with the performance of the applications. Outlook provides a 50Gb mailbox and One Drive has a 1TB file storage facility per user that most businesses put to good use for document storage, file collaboration and archiving.
So it's very likely that all your business-critical email and data files such as sales information, personnel files, process specifications etc are all stored within 365. What business users need to know about Microsoft 365 is that Microsoft operates a Shared-Responsibility model regarding your data.
Put simply Microsoft are responsible for the Security, Privacy and Compliance of your data within their cloud environment. This covers aspects such as the physical security of Microsoft's data centres, the replication of data between its data centres to provide redundancy, the security of their Apps and admin controls as well as fulfilling its regulatory duties.
You as the User are responsible for protecting and controlling access to your own data. So if for example one of your users accidentally deletes critical files then you are responsible for having a backup. It's extremely unlikely that Microsoft will be of much help in this instance.
There is, of course, the Recycle Bin but this doesn't help you roll back to a particular point in time and data may only be kept there for a specific time period.
This is why a Microsoft 365 Backup solution should be a serious consideration of any organisation that has business-critical data and email stored on 365.
There are various backup solutions available but the main benefits of an integrated solution are –
• A single portal that allows full control of what's backed up and simple, non-technical restoration facilities
• No agents deployed on local computers. Backup is achieved via direct contact with Microsoft Data Centres.
Our unmanaged 365 backup service from Acronis starts at only £4/month for 25Gb of storage so is easily affordable and provides peace of mind that your critical data is safe.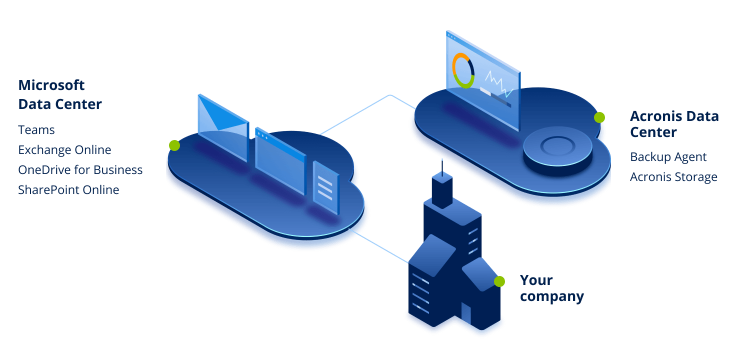 For more information on any of our backup solutions or Microsoft 365 please call us on 0131 563 7230 or email us at info@bcs.solutions .
Microsoft 365 – https://www.bcs.solutions/cloud-solutions/office-365/
Data Backup – https://www.bcs.solutions/services/data-backup/
Broadband Cloud Solutions is a Microsoft partner and an official Acronis partner.

"